Canon EOS R5 VS R6: Everything You Need To Know
Hey guys, Will Dano here. Today, I'm going to share my excitement with you about the upcoming Canon Mirrorless cameras. Canon EOS R5 VS R6, they're both amazing hybrid cameras, both with photos and videos. But today, I'm going to focus in more on video because that's mainly what I shoot. These cameras are going to have mind-blowing features that no other mirrorless cameras ever had.
If you prefer to watch our full video – Canon EOS R5 VS R6: Everything You Need To Know. You can below.
What are the specs?
The R5 is going to shoot an 8K uncropped 12 bit raw with dual pixel autofocus. And the R6 is going to be shooting only in 4K 10 bit four two two. But that's pretty amazing to begin with. The R6 will be able to go up to 4K 60FPS and the R5 will go up to 4K 120 frames per second, both at 10 bit, but both with no crop and with autofocus enabled. No other mirrorless camera has ever done this except for the Panasonic S1H which shoots at 4K 10 bit internally.
But the problem with that is it has a 1.5x crop factor and it doesn't have the same reliable autofocus like Canon. So even the R6, the lower end of the two canon cameras seems to be crushing the competition. There's also an in-body stabilizer in both of them. But I hope it doesn't give too much wobble. I also hope that they put in an option for us to turn it on and off as we see fit.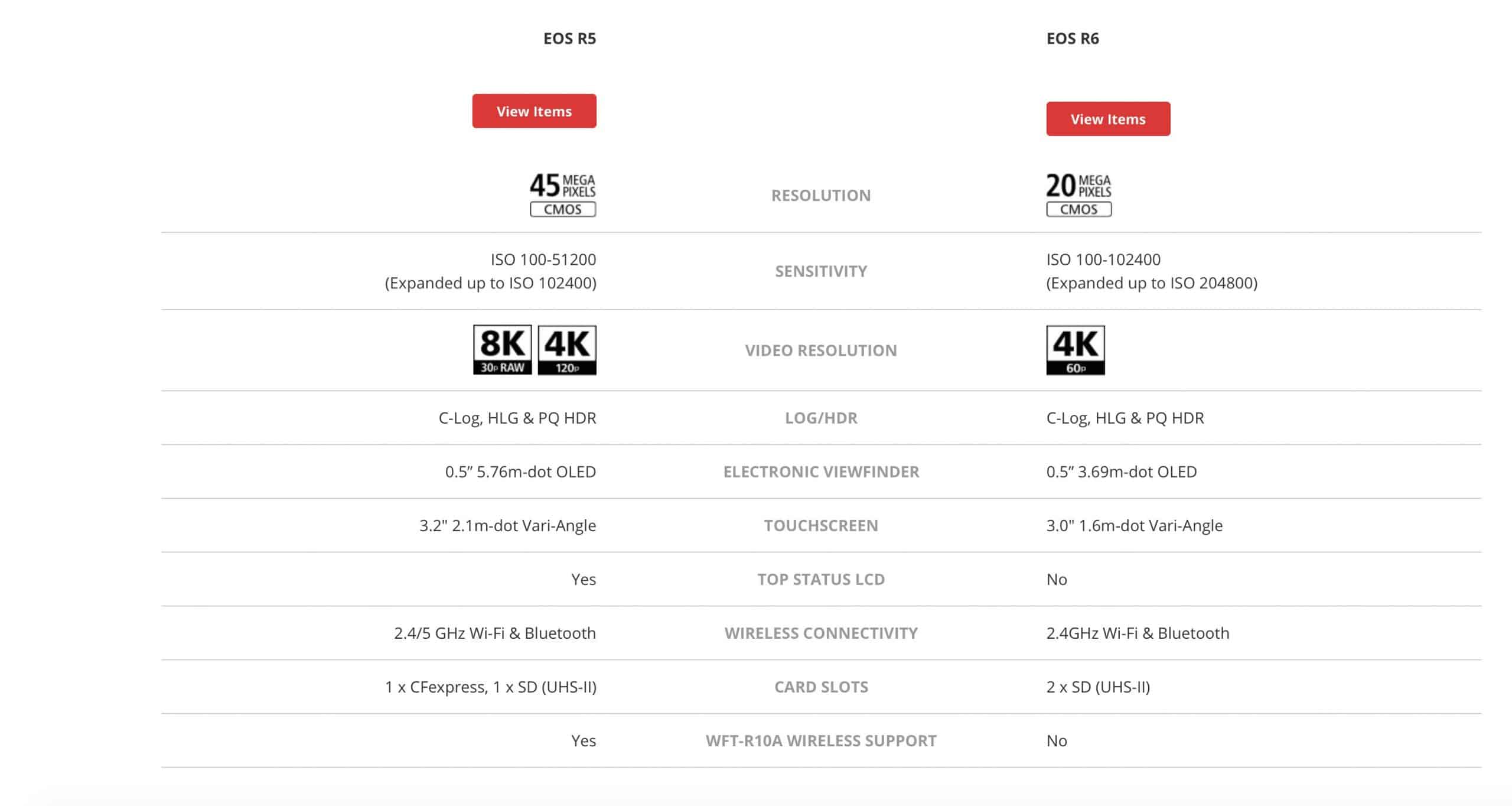 These awesome specs are definitely going to bridge a bit of the gap between mirrorless cameras and cinema cameras and push competitors forward like the Canon 5D did back in 2008. And I can't wait for what Sony answers within their July announcement.
Main Concerns
One of the main criticisms online about these cameras seems to be about how they can overheat, especially the R5 with the 8K options and the 4K 120FPS. After a certain period of time, depending on where you are and what the surrounding temperature is like, the camera might overheat and turn off and when you turn it back on, it won't be able to record for as long as it originally did because it needs more time to cool off.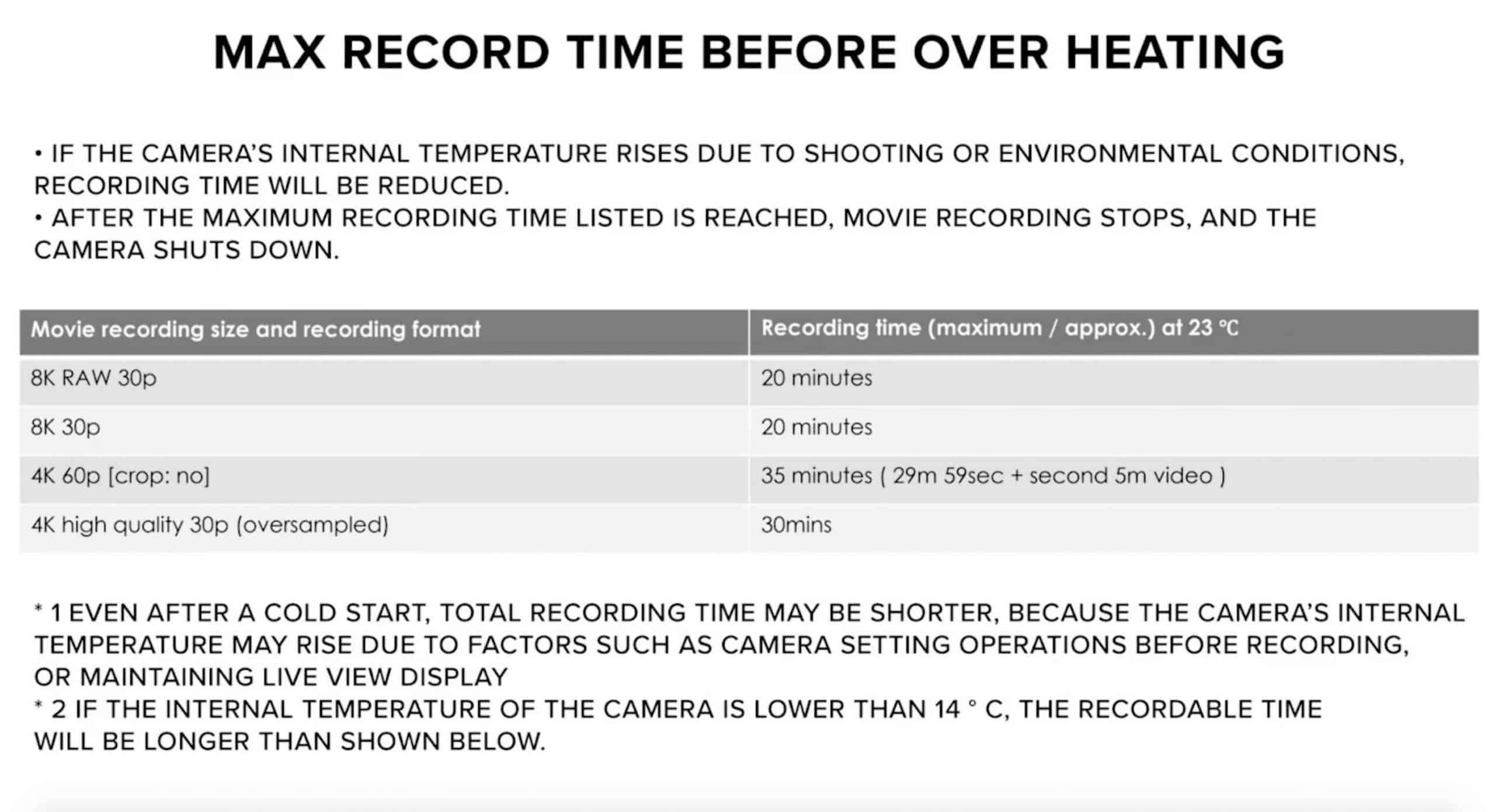 Now, I don't see that as a huge problem. First, no one's going to be shooting an 8K raw or 4K 120FPS, twenty minutes or more. That would take a ridiculous amount of drive space and it will be super difficult to edit with even if you have an amazing computer. Also, no other camera in this size and price range can record an 8K raw at full frame with reliable autofocus. If I were to complain about overheating issues while shooting 8K raw, then I would think the best choice would be to just save up for a cinema camera.
Finial Thoughts
The fact that Canon is offering this camera for about $5400 Canadian is a pretty huge win. All right. That's it for me today. I can't wait for these cameras to come out and for the competitors to hit back. If there's something I forgot or missed. Feel free to drop it down in the comments below. I'd love to read your thoughts and I'll definitely see you in the next one.
If you don't like reading and prefer video, you can watch the full video here – Canon EOS R5 VS R6: Everything You Need To Know. Also make sure to check out our blogs page to learn more tips & tricks and upcoming news.