Video Monetization: How to Make Money with Brand Videos
Video monetization is the latest way to achieve growth for content creators and online brands. If you are looking for a quick and simple way to increase sales growth for your brand, then video marketing is the ultimate solution.
What is Video Monetization?
Video monetization is the process of making money through online video content.
Research shows that video ads grew by over 40% in 2021, and online viewership is at an all-time high with an increase of 72%. It is evident that audiences are responding well to video solutions, especially with engaging video content.
This new era of marketing presents a great opportunity for video monetization. Instead of using simple marketing videos, it is time to start experimenting with unique marketing strategies. The goal is to engage customers who love watching a new trend or interactive videos on their social media feed.
3 Ways of Using Brand Video Monetization
Videos are the easiest way to communicate with your customers. Luckily, there are many ways to use such branded content to your advantage. Every time you create a new marketing video, remember to use video monetization strategies to boost sales.
Here are three ways that brand video monetization can help your business grow:
1. Attract New Customers
As a brand, your ultimate motive is to attract new customers. Research shows that an average American spends up to 24 hours a week online. During this time, most people enjoy watching videos instead of simply reading content.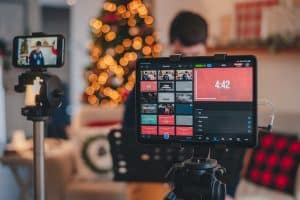 When you create engaging brand videos, you can get the attention of a variety of new customers. Since online users spend more time on pages with video, these customers can spend a longer time on your page and become familiar with your brand through video.
If one of your brand videos ever goes viral, then you can reach a larger audience without any extra effort. If you don't have a marketing video for your business yet, here are 5 reasons to make a promo video today.
2. Influence Buying Decisions
Videos are the most visual form of communication. Long paragraphs about your brand can become boring, but videos never will. To help your customers learn about the brand, try making informative and creative video content.
50% of internet users say that they look for videos before making a purchase from any store. Videos can help customers interact with your brand and make a quick buying decision. When customers know that your brand offers great value, they are likely to make a purchase.
3. Create a Brand Image
The best way to gain loyal customers is to establish a long-term relationship with them. Even before a customer makes a purchase, you can start building a positive brand image in their mind. Remember that every customer wants to learn about a company and product before spending their money.
Through videos, you can show customers how to use your products. You can also use videos to represent brand values such as creativity or minimalism. Instead of only using traditional marketing strategies, brand video monetization can help you grow sales by building a unique brand image.
Want to make a brand video that stands out, visit us and we can help you make your next video.