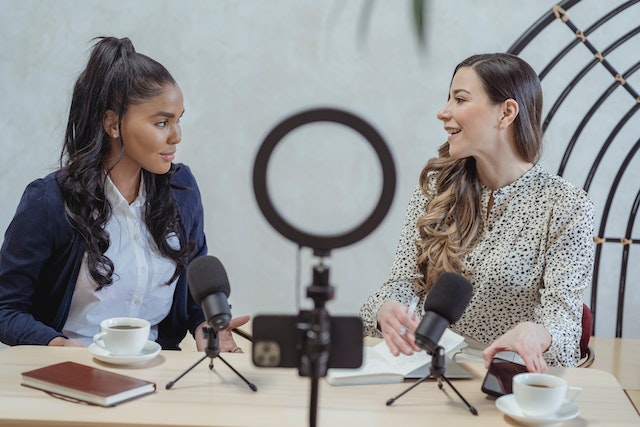 5 Powerful Strategies to Grow Your Business Using Videos
Having a strong online presence is crucial for any business growth. And guess what? Videography is your best friend here! It's like a resource that contributes to your business transformation and online growth. Take a look at the data that state it itself – over the last five years, from 2018 to 2023, Canada's Video production services industry has grown by an average of 2.4% per year. This information shows how much businesses are realizing the power of videos.
But here's the thing: It's not about making videos. It's about creating high-quality videos that attract the audience's attention and make them fall in love with your product details. This is only possible if you have a professional video production company on your side. This guide will break down the importance of video production that can help your business shine online!
Understanding the Potential of Video Marketing
Videos do much better than simple photo posts on social media. In fact, social videos get shared a lot more, about 1200% more, compared to posts with only text and pictures. Plus, when people watch a message in a video, they remember 95% of it, while reading the same message in text only sticks with them at just 10%.
But here's the point: Internet video marketing isn't just for big companies. Even small businesses can benefit. For instance, a local bakery can make short videos showing and sharing their delicious treats tutorials on social media. This can bring in more customers and orders. So, understanding video marketing's potential isn't just nice; it's essential for business growth and sales today. It's a versatile tool with a broad audience, changing the way we connect with customers.
Video Marketing: 5 Successful Ways to Grow Your Business with videos
1. Online Tutorials
By making a detailed how-to video, you position your brand as an authority in your niche. In total, 90% of people make the purchase by watching a detailed tutorial video. Even the nonbelievers get influenced by the high-quality videography and become part of your trusted customers' family.
Thus, how-to videos are a great approach for conversion in consumer packaged goods, as they offer real added value to potential customers and lower the risk of purchasing something that won't work.
2. Social Media Advertisement
Ordinary people adore popular influencers the most, and marketers should use that in their favour by encouraging brand lovers to publish HD videos on YouTube explaining how they use the brand and what problems the brand solves.
So, product online video marketing by collaborating with popular influencers and professional videography is a great way to showcase your brand. Such kind of social media advertisement not only enhances your business reach but also brings a great number of sales.
3. Target Special Occasions
Video marketing centred around special occasions, such as Christmas, can indirectly boost your business. For instance, launching a fun and happy video around the special time conveys your greeting to the customers and showcases your products or services in a catchy way.
Craft videos that capture the holiday spirit, showcasing your products or services in a festive setting. This builds a strong emotional connection with your audience, making them associate your brand with the special occasion.

Share heartwarming greetings in your videos that resonate with the season's sentiments, allowing customers to relate on a deeper level and understand how your offerings can enhance their special moments.

Utilize social media implications during peak holiday seasons to distribute your videos. These platforms offer vast reach and engagement, helping your content reach a wider audience.
By doing so, your business can experience significant growth and heightened customer engagement, making these moments even more special for both you and your customers.
4. Product Specification video
These videos on marketing can surely be a worthwhile investment, especially for the brands launching new products. They can be your spotlight, focusing on the product's specifications and unique features. Here's what can be done: –
Product specification videos or

product videography

act as a window into your product's essence! Showcase specific details like size, materials, technical specifications, and anything that sets your product apart.

The use of dynamic visuals to bring your product's standout features to life. Whether it's something related to technology, sleek design, or exceptional functionality, let the video show, not just tell.

Make clear how these specifications and features benefit the customer. From solving a problem to bettering their life, make sure the video leaves no doubt about why your product is a must-have.

A well-crafted product specification video can leave a lasting impression. Keep it concise, captivating, and aligned with your brand's tone and identity.
Finish with a strong call to action, guiding viewers on the next steps—whether it's making a purchase, signing up for updates, or exploring more on your website.
5. Brand Awareness
You're opening the door to a deeper connection when you take your audience on a journey by sharing the story behind your brand, its values, and its mission. These narrative videos create emotional bonds and lasting impressions by allowing the viewers to understand not just what your brand does but why it does it. As a result, viewers are more likely to remember and identify with your brand, leading to increased awareness.
Other than that, you can also create heartfelt videos on your customer's experiences. Turning satisfied customers into brand ambassadors through video testimonials can work wonders for your brand. Real individuals sharing their authentic experiences with your products or services builds trust and authenticity around your brand. Thus boosting awareness!
Wrapping Up
Video marketing for business is one of the most effective methods to expand their audience, enhance sales conversions, and increase customer engagement. These five powerful strategies showcase the immense potential that lies within video marketing. So, get started with these marketing video productions with professionals, like Origin films, for your brand, and see it flourish digitally!